RIPPED FROM THE HEADLINES!
...or something like that.

Senator John Cornyn, on CNN this morn, with Dana Bash:

(on camera): How worried are you about the deep divide within your own party over this issue?

SEN. JOHN CORNYN (R), TEXAS: I really am not worried about it. I think it's actually healthy.

BASH: You think it's healthy? In an election year it's healthy?

CORNYN: Well, you know, that's the problem in America, we're always having elections.

Which is all well and good until you realize that what with the PATRIOT Act and the "unitary executive" and the "Long War" and all, well, you have to wonder if he was just joking or was actually speaking his mind. After all, we have this from Dubya:

GOV. GEORGE W. BUSH (R-TX), PRESIDENT-ELECT: I told all four that there were going to be some times where we don't agree with each other. But that's OK. If this were a dictatorship, it'd be a heck of a lot easier, just so long as I'm the dictator.

Yeah, I feel entirely justified to be a little bit nervous.

meanwhile from Fox, courtesy Crooks & Liars:




The question should be,

"Could 9/11 have been avoided if we had a frickin' competent President?"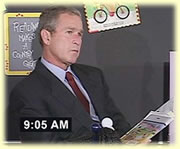 (apologies for folks coming over from the incredibly superior Eschaton for the hit-and-miss quality of blogging here.)