Two years ago today...
...a man who supposedly made protecting the American people his biggest priority after 9/11 let the better part of a major American port city die 'cause he had better things to do.




And let's not forget the shining performance of this Arabian horse expert: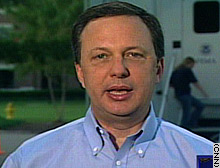 Heckuva job, guys.

Those of you with access to Link TV may want to watch Big Easy to Big Empty: The Untold Story of the Drowning of New Orleans by Greg Palast, who's done a lot of followup on the Katrina situation. More here, including the story of how he was accused of being a terrorist threat for filming the Exxon refinery next to one of the relocation camps for ex-New Orlanders. Which refinery is easily locatable here, courtesy Google.