Epic math FAIL
Someone might want to point out to the Republicans on the deficit stupidcommittee that the whole concept of "cutting the deficit" entails, you know, cutting the deficit, not adding to it:

The new Republican plan provides for slightly more than $3 trillion in deficit reduction over the next ten years, relative to a current-policy baseline that assumes extension of all the 2001-2003 tax cuts. (See Table 1.) Of that amount, only about 1 percent of the deficit reduction ($40 billion) stems from revenue increases. And, compared to the "plausible baseline" that the Bowles-Simpson Fiscal Commission and the Senate's Gang of Six used, which assumes expiration of the upper-income tax cuts, the latest Republican plan actually provides for tax cuts of more than $800 billion over ten years.
Whee, that's just a net savings of -140 billion! It's Bizarro economics - "us reduce the deficit by adding to it! We am so stupid!"
I would make a comment along the lines of "this is the best the GOP can do?" but A) looking at their Presidential candidates, yes, it probably IS the best they can offer, and B) it's obviously what they wanted to do all along, now with a convenient fig leaf of "reducing the deficit" to cover their nastiness.
BTW, as far as the GOP hopefuls go, Crazy Pizza Man Cain says, much like
another GOP candidate
a few years back, that he will have really great advisers and should therefore
be allowed to learn on-the-job
:
I don't believe that you need to have extensive foreign policy experience if you know how to make sure you're working on the right problems, establishing the right priorities, surrounding yourself with good people, which will allow you to put together the plans necessary to solve the problem.

When I went to Godfather's Pizza in 1986, the company was supposed to go bankrupt. I had never made a pizza, but I learned. And the way we renewed Godfather's Pizza as a company is the same approach I will use to renew America. And that is if you want to solve a problem, go to the source closest to the problem and ask the right questions.
One might point out how well that worked last time.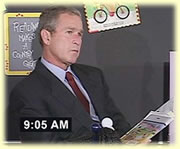 (I mean,
seriously
, compare the babble Cain spouted up there with G.W. Bush, on the
News Hour, April 27, 2000
:
Secondly, am I willing to listen and who would I be listening to, who are the people that would come and provide counsel or would I listen at all, and, if so, and if I did listen, when I made a decision, would it be based upon principle, or would it be based upon polls? My answer to people would be that I'm a person of faith and family. And I hold -- but I hold America dearly in my heart. I love what America stands for.

Secondly, I am going to be surrounded by the best that any president has ever brought to Washington, D.C. People ask who - well, you know, my foreign policy adviser is a person - who when America gets to know her is going to realize that she is really one of the smartest, capable people in America - Dr. Condaleeza Rice. Larry Lindsay has been an economic adviser of mine.

I just announced my vice presidential search headed by Dick Cheney, who is about as solid a citizen as America has ever produced. A leader is somebody who must listen and so I think the quality of the administration and the quality of my presidency will be determined by the people I bring to Washington.
How are those two sets of quotes any different from each other? Are we really that stupid that we'd elect - oh, never mind, Cain's evidently the front runner right now, and evidently therefore, yes, we ARE that stupid. Fuck yeah, let's just get ourselves another eight fucking years of Mr. CEO Preznit; like I said, it worked out SO FUCKING WELL last time.)